I offer pet portraits in pastels and coloured pencils as standard. I also work in acrylics and watercolour, so ask for a quote if you'd prefer something non-standard. Each medium has a slightly different visual effect and you can see examples in the pet portrait gallery.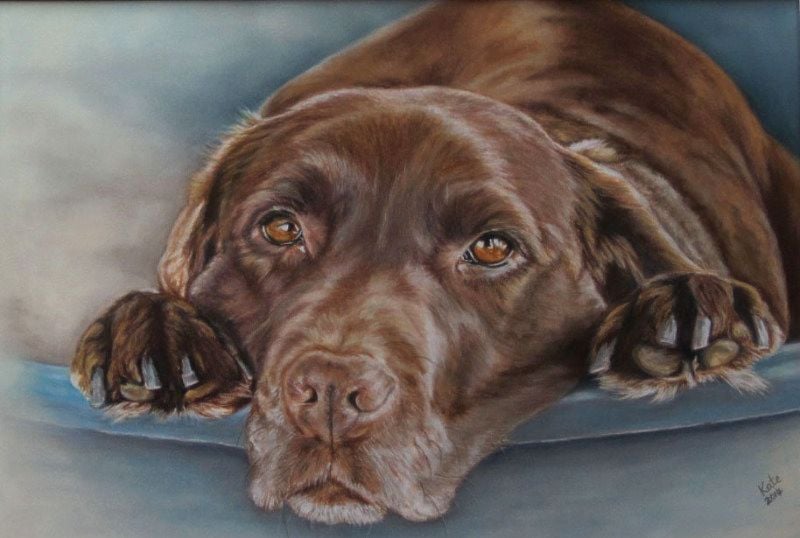 Pastels have a soft finish which is superb for reproducing the textures of fur or feathers. They are a popular choice and my personal preference for pet portraits.
I use premium, professional quality soft pastels and pastel pencils, which have strong, light-fast pigments. These are applied to an acid-free substrate such as 'Pastelmat'', which is specifically designed for use with pastels, eliminating the need for fixative sprays. I will supply your portrait mounted between a conservation grade bevelled mount mat and acid free backing board, ready for framing.
Ideally. pastels paintings should be framed under glass (I don't recommend using acrylic glazing or plexiglass for pastels). For ease of handling, some clients choose to have their portrait framed prior to dispatch, which I can arrange. Please ask for a quote if you'd like this.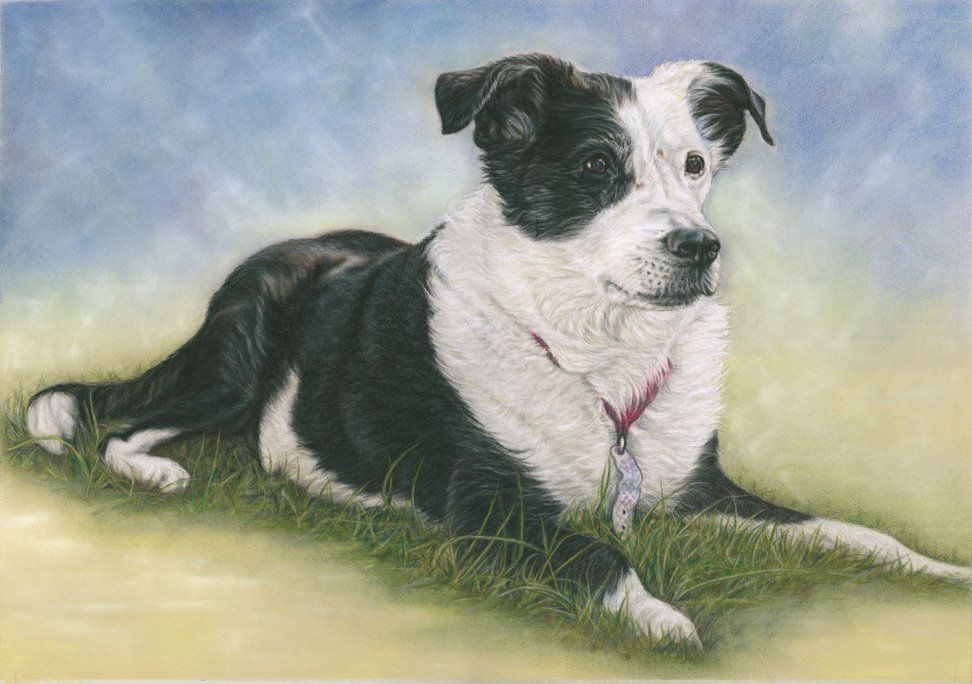 Unlike the colouring pencils you may remember from childhood, these coloured pencils are on a completely different level. Like pastels, the technique used involves building up layers of colour. Unlike pastels, it is possible to sharpen the pencils to a very fine point, making them an excellent choice for portraits with fine detail.
I use professional grade pencils with light-fast pigments. They are applied to an acid-free substrate, either 'Pastelmat'' or 100% cotton paper. Backgrounds on 'Pastelmat' are coloured to create a mottled effect. If 100% cotton paper is used, the background will be left white. Coloured pencil portraits are supplied mounted on a conservation grade mount, ready for framing. I do not supply frames as standard, but I can source one for you and frame the portrait prior to despatch. If you'd like this, please ask and I will provide a quote for the additional cost.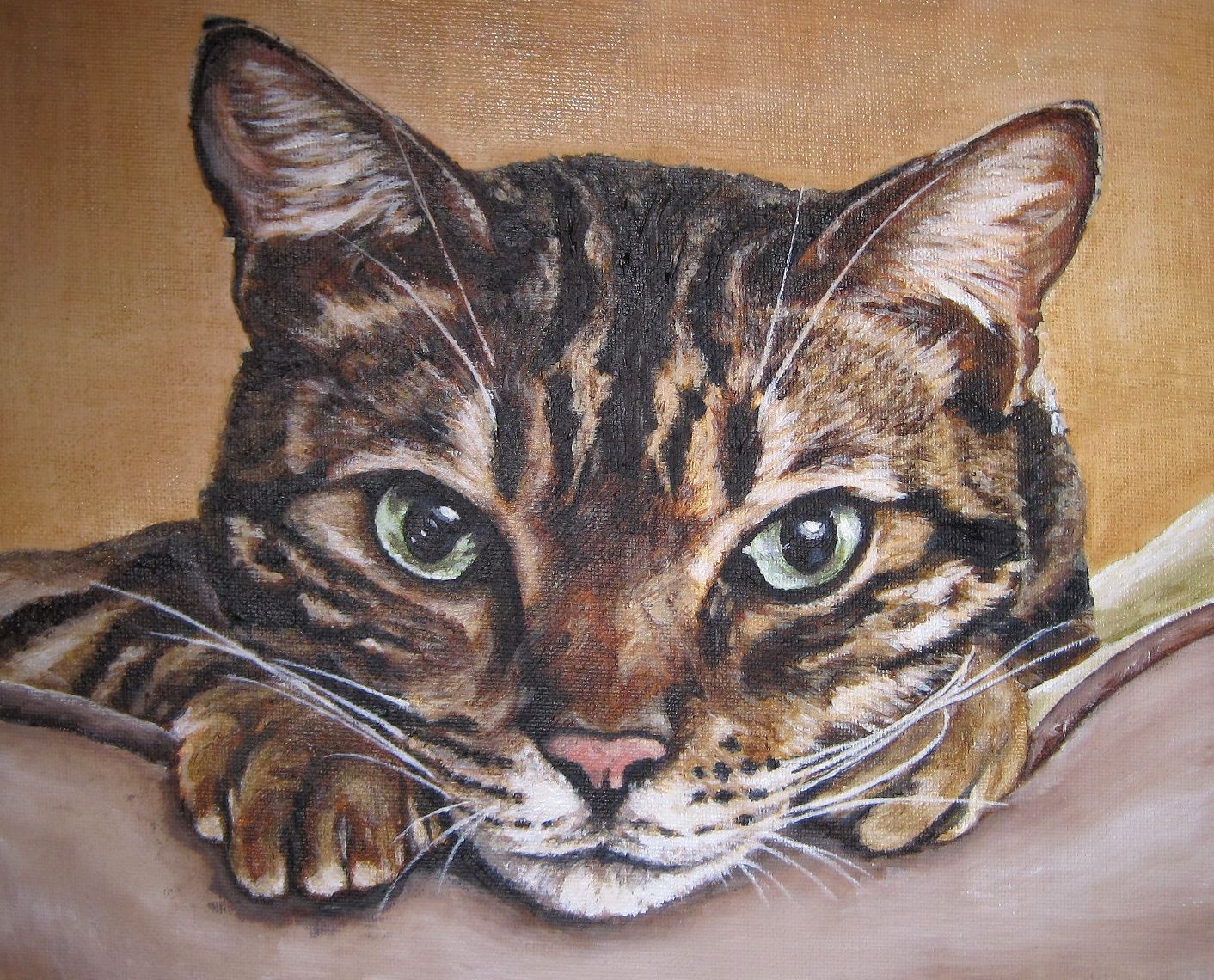 Portraits in acrylics are painted on either stretched canvas (no frame required) or canvas board, which requires a frame.
I use premium, professional grade acrylic paints, which have a brilliance of colour due to the fine pigments used in their production. I use triple primed, superior canvases with a depth of 1.4" which do not require a frame. If you intend framing your painting, let me know and I will happily use a shallower canvas or a canvas board.
Acrylic paints produce a finish that looks similar to oils, but their fast drying time means that you don't have to wait many weeks for the paint to dry. They are durable and the colours will remain vibrant for many years, as long as they are not hung in direct light. Each painting is coated in a double layer of varnish which provides additional UV protection.
Ink and watercolour pet portraits are offered at a lower price than other options. They are less detailed and more sketchy/illustrative in style than the portraits in different media. They generally take less time to produce (although not always), which justifies the lower price. The quality of materials is just the same though, so it's a good option if budget is limited, but quality is still of importance.
I use permanent ink along with artist grade watercolour paints, which are produced using only the finest pigments, and are valued for their brilliance, permanence and strength of colour.
The paint is applied to premium acid-free watercolour paper and the completed portrait is mounted between a conservation mount and acid-free backing board (a frame is not included as standard)