I offer pet portraits in pastels, coloured pencils, watercolours or acrylics. Each medium has a slightly different visual effect, so here's a brief overview. If you need help choosing, I'll be more than happy to guide you. You can see examples in my pet portfolio.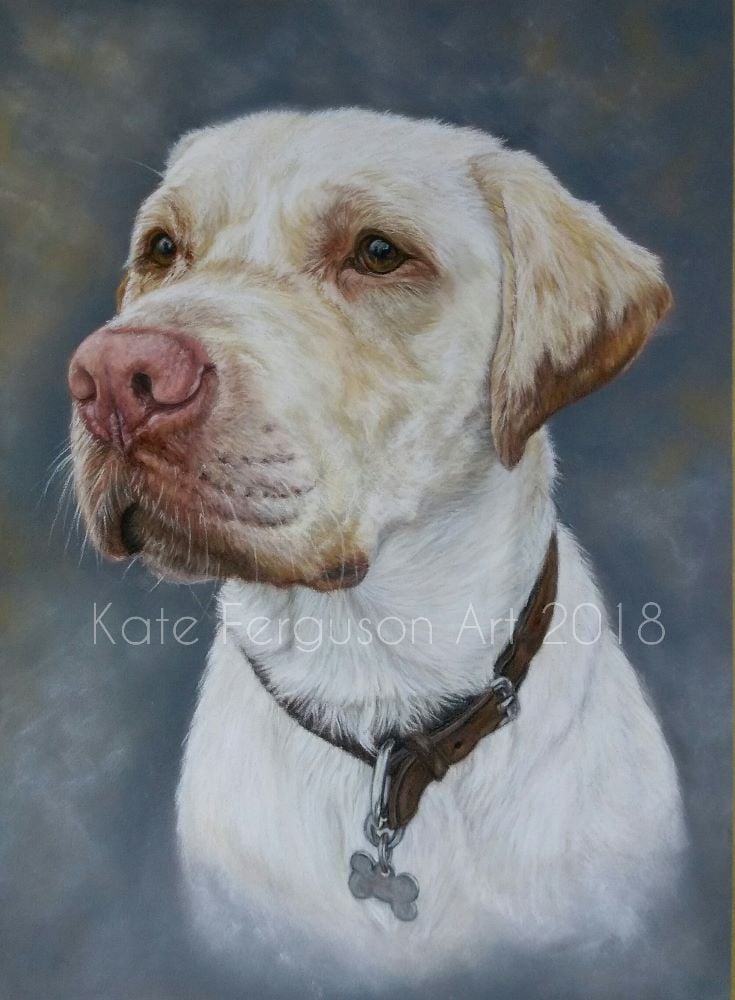 Pastels have a soft finish which is superb for reproducing the textures of fur or feathers. They are a popular choice and my personal preference for pet portraits.
I use premium, professional quality soft pastels and pastel pencils, which have strong, light-fast pigments. These are applied to an acid-free substrate such as 'Pastelmat'', which is specifically designed for use with pastels, eliminating the need for fixative sprays. I will supply your portrait mounted between a conservation grade bevelled mount mat and acid free backing board, ready for framing.
Ideally. pastels paintings should be framed under glass. If using acrylic glazing, avoid thin, cheap varieties and remove any static charge from the acrylic before framing. For ease of handling, some clients prefer to have their portrait framed prior to dispatch. Find out more about having your portrait framed.
Unlike the colouring pencils you may remember from childhood, these coloured pencils are on a completely different level. Like pastels, the technique used involves building up layers of colour. Unlike pastels, it is possible to sharpen the pencils to a very fine point, making them an excellent choice for portraits with fine detail.
I use professional grade pencils with light-fast pigments. They are applied to an acid-free substrate, either 'Pastelmat'' or 100% cotton paper. Backgrounds on 'Pastelmat' are coloured to create a mottled effect. If 100% cotton paper is used, the background will be left white. Coloured pencil portraits are supplied mounted on a conservation grade mount, ready for framing. I do not supply frames as standard, but I can source one for you and frame the portrait prior to despatch. Find out more about having your portrait framed.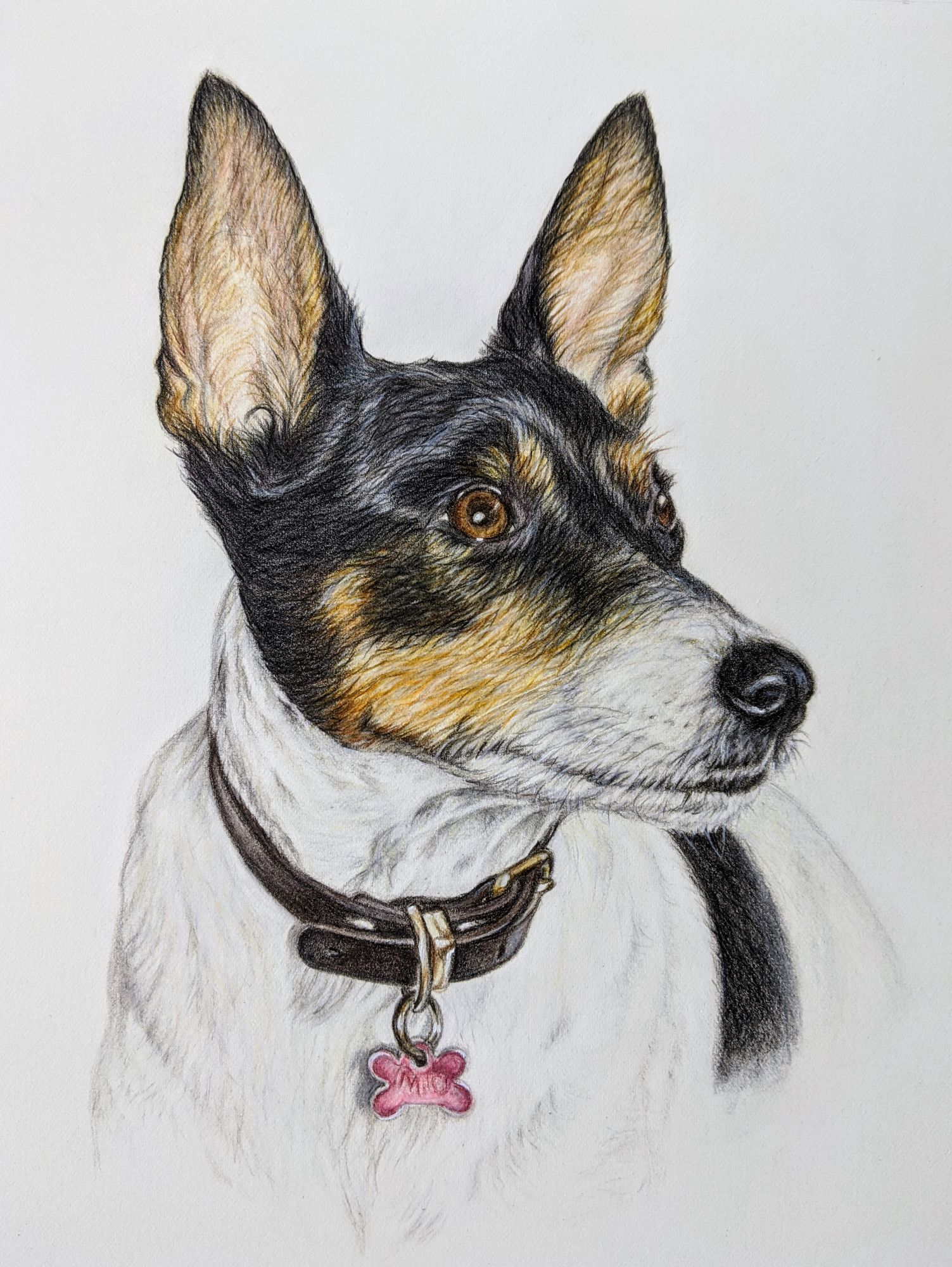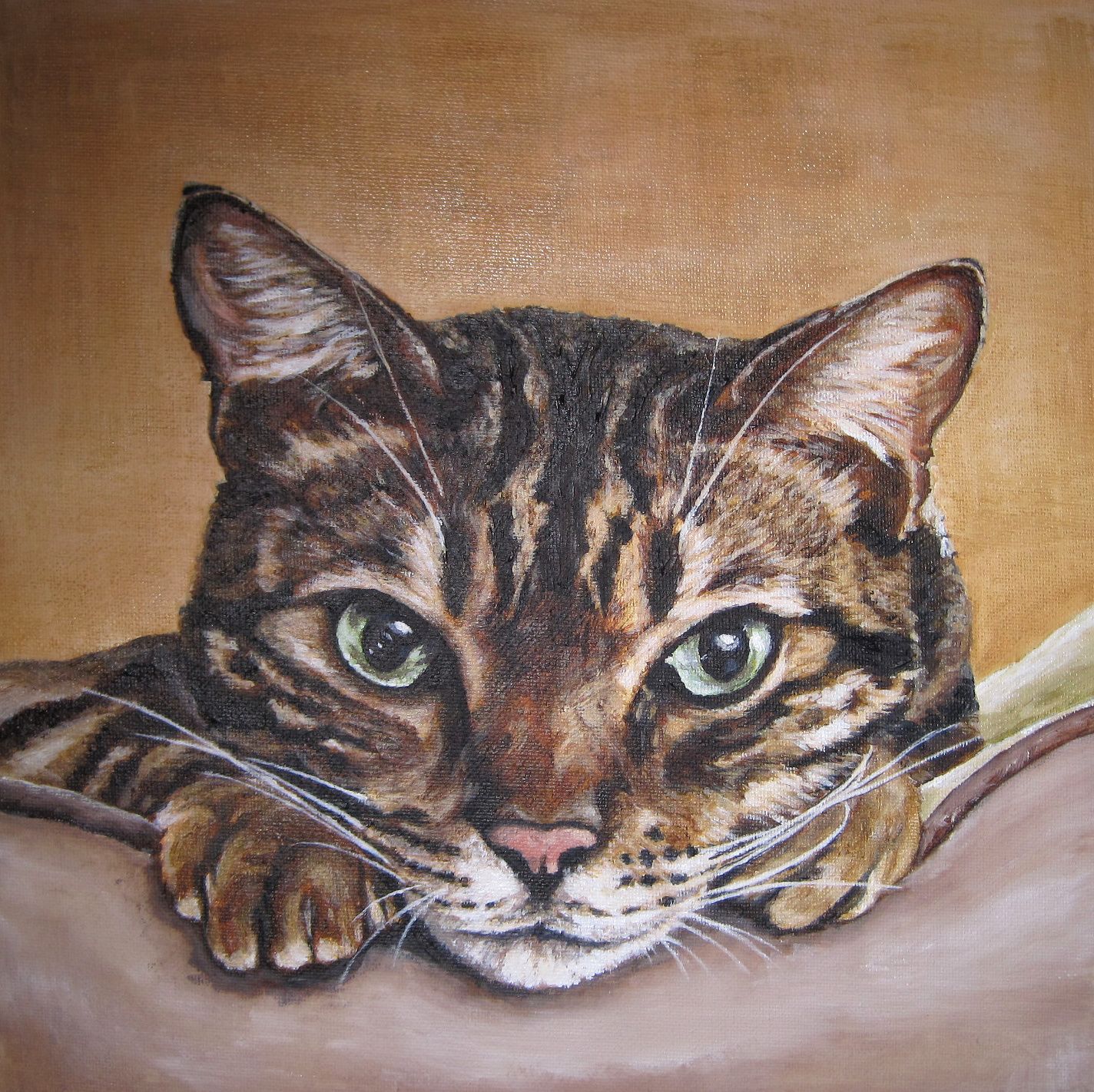 Portraits in acrylics are painted on either stretched canvas which does not require a frame. If you intend framing your painting, let me know and I will use a shallower canvas or a canvas board.
I use only premium, professional grade acrylic paints which are produced using fine pigments, giving wonderful vibrancy and permanence to the colours. Canvases are premium quality, triple primed, with a depth of 1.4" as standard.
Acrylic paints produce a finish that appears similar to oils, but their fast drying time means that you don't have to wait many weeks for the paint to dry. They are durable and the colours will remain vibrant for many years, as long as they are not hung in direct light. Each painting is coated in a double layer of varnish which provides additional UV protection.
Watercolour pet portraits are ideal if you are not looking for a highly detailed portrait. They are my preferred medium when high resolution reference photos are hard to come by. I previously offered a watercolour and ink sketch style, but this is no longer an option, as I prefer a softer watercolour finish without the ink sketching.
Paints are Winsor and Newton artist grade which, like the W&N acrylics, are produced using pigments valued for their brilliance, permanence and strength of colour.
I only use premium, acid free watercolour papers, choosing a weight and surface (smooth or rough) to suit the size of the painting and the finish I want to produce. The completed portrait is mounted between a conservation mount and acid-free backing board. Framing is not included as standard, but may be chosen as an optional extra. Find out more about having your portrait framed.