Choosing a medium for your pet portrait
Posted on
I offer pet portraits in pastels, coloured pencils or watercolour and ink. Each is supplied mounted between a soft white conservation mount and backing board, ready for framing. Pastels and coloured pencil portraits are visually similar, with subtle differences, whereas watercolour and ink portraits have a style of their own. So here's a brief overview to help you choose a medium that's right for you.
Pastels
Pastels have a soft finish which is superb for reproducing the textures of fur or feathers and they are a popular choice for pet portraits.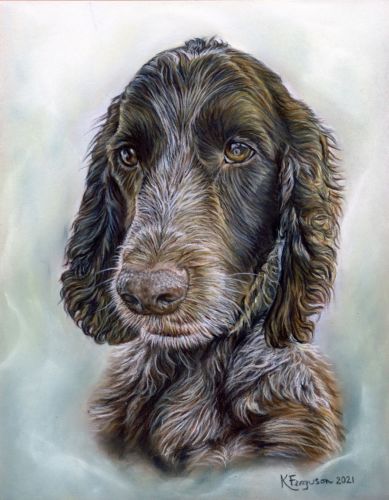 I use high grade professional quality soft pastels and pastel pencils, which have strong, light-fast pigments. These are applied to an acid-free substrate such as 'Pastelmat'', which is specifically designed for use with pastels, eliminating the need for fixative sprays. I first lay down a tonal layer to identify light and dark areas. Colours are built up in further layers, working from from dark to light, with details and highlights added towards the end.
Pastels are like a soft chalk, so there is a small risk of smudging if care is not taken whilst handling an unframed painting. The pastelmat holds the pastel particles wonderfully, but I do recommend having the portrait framed asap.
It is best to have pastels portraits framed under glass and I fully recommend using a professional framer rather than buying a frame off the shelf. Read my advice on framing.
Coloured pencils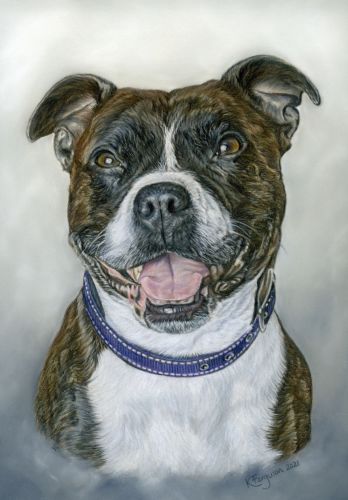 Unlike the colouring pencils you may remember from childhood, these coloured pencils are on a completely different level. Like pastels, the technique used involves building up layers of colour. Unlike pastels, it is possible to sharpen the pencils to a very fine point, making them an excellent choice for portraits with fine detail.
As with the pastels I use, all my pencils are professional grade, with strong pigments that have excellent lightfast properties. They are applied to an acid-free substrate, which is either 'Pastelmat'' or 100% cotton paper. These result in distinctly different styles of portrait. When using 'Pastelmat' I'll colour the background with pastels and the overall effect is very similar in appearance to pastels. If 100% cotton paper is used, the background will be left white, resulting in a clean look with a strong contrast between the subject and background.
Whilst coloured pencils are not as soft as pastels, there is a small risk of smudging if you brush something across the surface, so care should always be taken. It is a little easier to frame coloured pencil portraits under acrylic glazing, however, I still recommend using the services of a professional framer to do your portrait justice.
Watercolour and Ink
Watercolour & ink portraits are painted in a fairly loose style, with less focus on tiny details. Ink is used to enhance certain areas and the amount used varies according to the subject and quality of the reference photo. The resultant portrait has a 'painterly' and informal feel to it.
I use professional artist quality Winsor & Newton watercolour paints and permanent pigment ink. I sometimes use a little white gouache for emphasis if needed. The paint is applied to acid-free watercolour paper, which may be rough (cold pressed) or smooth (hot pressed). I only use paper of 300gsm upwards.
The benefit of a watercolour & ink portrait is that there is no risk of smudging the medium once the paint is dry. Of course, you wouldn't want to spill anything on it!
Watercolour & ink portraits can be framed under acrylic glazing or glass, ideally using the services of a professional framer, to ensure the painting is protected from the elements and pesky insects.