When a painting finds a new home.
Posted on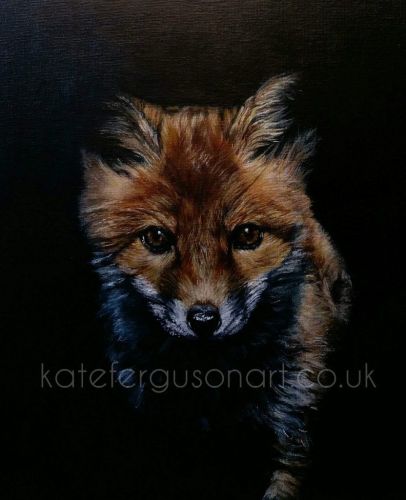 It won't surprise anyone to hear that much of my business comes from commissions for pet portraits, However, I also spend many hours producing other paintings, whether it be wildlife, insects (bees, I'm mad about bees) seascapes, landscapes....... whatever inspires me at the time. The ultimate aim is to be able to sell some (if not all) of these artworks, but parting with a painting that I've done for 'me' is very different from the joyful experience of handing over a commissioned piece.
I always develop a 'relationship' of sorts with a painting, commissions and personal work alike. With a pet portrait, it's important for me to get a feel for the animal's personality and the pet/owner relationship. As the portrait develops, so does my engagement with the character of the animal I'm portraying. But I never lose sight of the end goal, which is to meet, if not exceed, the expectations of the person who has commissioned the portrait and to give pleasure to those who truly know and love the pet the most. When the time comes for the portrait to go 'home' it's a delight for me, because the clients are excited to finally receive their commission and I'm thrilled to present their pet to them in an artwork.
When I'm creating a personal piece of art it's very different. I rarely think about selling the work, let alone who might want to buy it. I'm putting my heart and soul into creating art that pleases me. One example of this was the fox cub pictured above. As I painted this little animal, I was transported into his twilight world: the world that we are oblivious to while we sleep. I adored creating that painting and every brush stroke is still etched in my mind. I framed him in a beautiful bronze and gold frame, which set off his red/gold coat perfectly and reflected the glow of his bright eyes. He was destined for an exhibition, so I wrapped him and put him away until it was time to put him on public display.
The big day came and he took pride of place on his display stand. I knew that he would attract attention, but I hadn't prepared myself for someone wanting to buy him. It didn't take long. A lovely lady fell in love with him on first sight and suddenly, he was no longer mine.
After the exhibition, I took him home, prepared him for his new home and sent him on his way. I genuinely felt a sense of loss. "Ah, you can just paint another one" said my family. But they don't understand.......
Enjoy your new home little fox, where I know you'll be loved and admired. And that glint in your eye? ..... well, it's a little piece of me that'll stay with you forever.